Asus ROG Swift PG32UQX with 32″ IPS Panel, 4K Resolution, 144Hz, G-sync Ultimate and HDR 1400
Original news piece from January and October 2020, now updated 28 April 2021
Asus announced all the way back in Jan 2020 at the CES event a top end gaming display in their popular ROG Swift series – the ROG Swift PG32UQX, the "World's first Mini LED Gaming Monitor". This screen will offer a 32″ IPS-type panel with 3840 x 2160 "4K" resolution combined with a refresh rate of 144Hz. It also features a Native G-sync hardware module with G-sync Ultimate certification, a Mini LED backlight with 1152 dimming zones, HDR 1400 certification and a range of other top end features.
PG32UQX Gaming and Refresh Rate
For gaming the screen offers a 4K resolution combined with a 144Hz refresh rate. This is supported through the use of a Native G-sync hardware module, with G-sync Ultimate certification. This should include features like variable overdrive, super-low input lag and excellent VRR performance and range.
The recent Asus product page confirms the screen will also feature VRR technology for Xbox Series X over HDMI, which we expect means it will also support FreeSync from AMD graphics cards, perhaps over both DisplayPort and HDMI. Although this is not yet confirmed officially. That will probably need to wait for third party testing to confirm.
PG32UQX HDR 1400 and Mini LED Backlight
This will be Asus' first gaming monitor to feature VESA DisplayHDR 1400 certification, with the 1,152 zone Mini LED backlight helping to offer high end local dimming support beyond previous FALD backlight options with more zones. This includes a peak brightness of 1400 cd/m2 for HDR. There is also a wide colour gamut with 98% DCI-P3 coverage offered thanks to the use of Quantum Dot coating, along with a 10-bit colour depth to support HDR content (HDR10 supported). The Mini LED backlight should offer some of the best HDR dimming capabilities and performance currently available in the monitor market.
4K Resolution on a 32″ Screen
The PG32UQX is designed to be a productive companion outside of games, too. Making full use of the desktop real estate offered by a 4K resolution isn't always practical on a 27" monitor, simply because not all of us have eagle eyes. Many users take advantage of 4K displays' high pixel density by scaling up the Windows desktop for smoother text rendering, but for those who want to use all of the real estate available from a 4K resolution, the 32" diagonal expanse of the PG32UQX offers a pixel density which may be better suited to running the Windows desktop without scaling, or if not, at least at a lower scaling level like 125% to give you a bit of a boost in desktop real-estate.
PG32UQX Specs
Spec wise the 32″ IPS-type panel from AU Optronics offers a 3840 x 2160 resolution, 16:9 aspect ratio, 4ms G2G response time, 1000:1 contrast ratio, 500 cd/m2 brightness, 1400 cd/m2 peak brightness (HDR), 178/178 viewing angles, 10-bit colour depth and 98% DCI-P3 colour gamut coverage. This should actually extend quite a long way beyond the DCI-P3 space in some areas for "relative coverage" as a figure of ~160% sRGB coverage is also listed. The screen comes factory calibrated with a dE of <2 listed on the Asus product page.
Ultra Low Motion Blur (ULMB) has also now been confirmed from the Asus product spec page as being included. This will offer a strobing blur reduction backlight but cannot be used at the same time as VRR on this model.
Multiple textures on the back of the display, separated by a subtle diagonal chrome strip, signal that this monitor isn't your average screen. An Aura Sync-enabled RGB LED ROG logo lets you coordinate the PG32UQX with your other Aura-enabled components for a fully synchronized battle station. And an ROG logo projector in the base of our trademark twisted stand lets you show off your allegiance to the Republic of Gamers or display your own logo using the included blank discs.
For connectivity there are 1x DisplayPort 1.4 (now confirmed as including DSC), 3x HDMI 2.0, along with 2x USB 3.1 and 1x USB 2.0 ports. There is a headphone jack provided as well for audio. One of the USB ports (we suspect the USB 2.0 port) and a tripod socket are provided on top of Swift PG32UQX easily accommodate a lighting kit or webcam for streaming.
The stand of Swift PG32UQX offers tilt, swivel, and height adjustments (no rotate) so you can easily find your ideal viewing position. The display is also VESA-compatible for wall mounting.
The new OSD Dial at the bottom of the monitor allows you to control the on-screen display menu and adjust brightness and other color parameters quickly and easily.
The PG32UQX has an OLED Panel* (sort of!)
There is also a "Built-in LiveDash 2-inch OLED panel [which] shows useful information & customizable graphics" according to recent Asus product pages. It's only a matter of time before you see shameless click-bait promoting the PG32UQX as having an OLED panel, we do so above in jest.
This build in display panel shows useful system information such as temperatures, voltages, fan speeds, or system frequency. LiveDash can also be used to display customized images or animations* to reflect your clan insignia or gamer tag.* Supports JPEG and GIF images sized 256 x 64 pixels. Shows real-time hardware stats and custom logos and animations.
Will the PG32UQX have HDMI 2.1?
Interestingly some early product pages back in October 2020 on taobao.com (now dead links) listed the screen as including an HDMI 2.1 connection! We initially took this on face value but later had an update direct from Asus confirming that this is NOT included on this screen. We are not sure where this error came from at taobao, but that's what we were told by Asus as a correction to this news piece. This has been confirmed wit the final Asus product page in March 2021 as well.
As far as we know the current NVIDIA hardware G-sync module does not support HDMI 2.1 so this is the likely reason for the absence of that connection type, which would have been useful for console gaming. This Native G-sync module is needed to support fast and effective Mini LED dimming at the same time as VRR on a gaming screen such as this, which is complex and expensive to develop. The G-sync module is a core part of this new screen, and this is the reason why HDMI 2.1 is not offered.
For connectivity there are 1x DisplayPort 1.4 (now confirmed as including DSC), 3x HDMI 2.0, then 2x USB 3.0, 1x USB 2.0 ports and a headphone jack provided. The use of DSC over DisplayPort means that you can run the screen at 4K @ 144Hz without the need to drop colour depth or chroma which is great news for visually lossless performance.
PG32UQX Pricing and Availability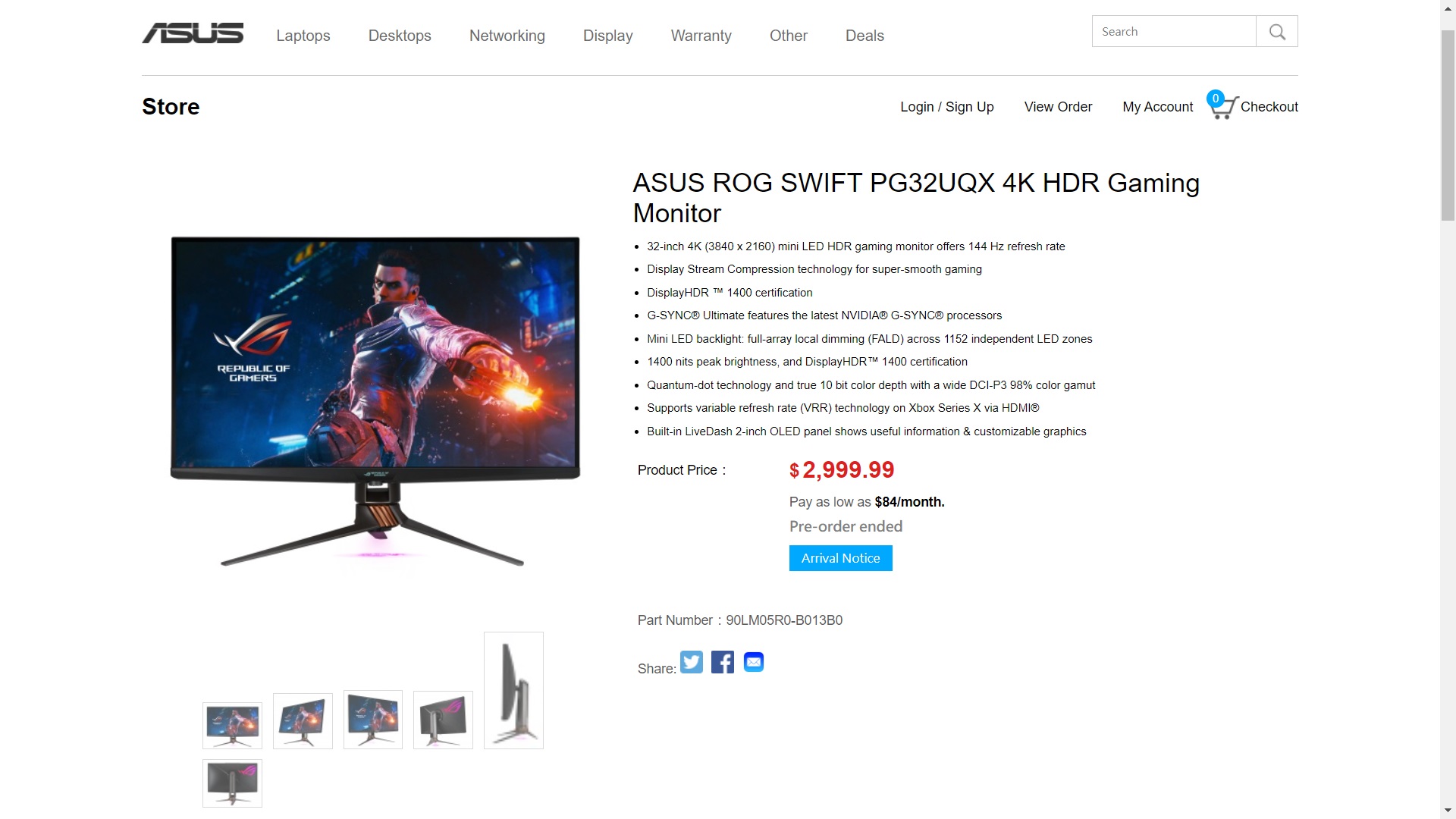 Early availability and pricing suggestions were very varied during 2020 with exceptions including a price around $3600 (based on Acer's announcement of their equivalent Predator X32 at CES 2020) and then later estimates even higher at $6400. Taobao had it listed at ¥42999.00 on their site with a Jan 21 ETA, but that pricing and release date is wrong. That would have been a whopping $6400 USD approximately! Asus have confirmed to us that the pricing is definitely incorrect too. More recent info in March 2021 on the Asus website suggests a price of $2,999.99 USD.
The latest AU Optronics panel information we had back in Oct 2020 suggested that the 32″ IPS-type panel being used for this screen was due to go in to mass production that month, and so this should probably be available soon we believe. It was briefly listed for pre-order on Asus' website implying perhaps it will be available more widely soon.
---
Update 28/4/21 – according to a press release from Asus today there will be "On-the-Shelf Availability of ROG Swift PG32UQX by End of May 2021". This was a UK press release but we are clarifying what regional availability is likely to be, and any pricing info we can get.
There is also this promotional video linked below
Source: Asus
---
News alerts and more – follow us on Twitter
Subscribe to our News RSS feed