LG 27GN950 with 27″ Ultra HD Nano IPS Panel, 160Hz Refresh Rate and DSC Support
LG have announced their new 27GN950 display, due to be showcased at CES in January. This new 27″ screen features a Nano IPS panel with a 3840 x 2160 UltraHD resolution along with a 144Hz native refresh rate and 160Hz via an overclocking feature. A single DisplayPort 1.4 cable provides support for VESA Display Stream Compression (DSC) technology for "virtually lossless performance" when handling 4K UHD images in 10-bit colour at 144Hz. The screen also supports adaptive-sync for VRR support from both AMD and NVIDIA systems. The screen will be certified 'G-sync Compatible' as well for verified performance.
Display Stream Compression (DSC)
There is no need for chroma or bit depth colour compression here like the earliest 4K @ 144Hz displays, like the Asus ROG Swift PG27UQ or Acer Predator X27. Those high end models could run up to 98Hz with 10-bit colour and without any compression, but anything above that required some form of compression due to the bandwidth limitations of DP 1.4.
We have seen a couple of screens announced from Asus before which feature this DSC method instead like the recently reviewed Asus ROG Strix XG27UQ and the ROG Strix XG43UQ . Our testing of the XG27UQ revealed no visual difference when using DSC and it appeared to work very well.
NVIDIA GeForce RTX 16/20 series, AMD Radeon RX 5500 or higher graphics card required for UHD 4K 10 bit at 144Hz with DSC.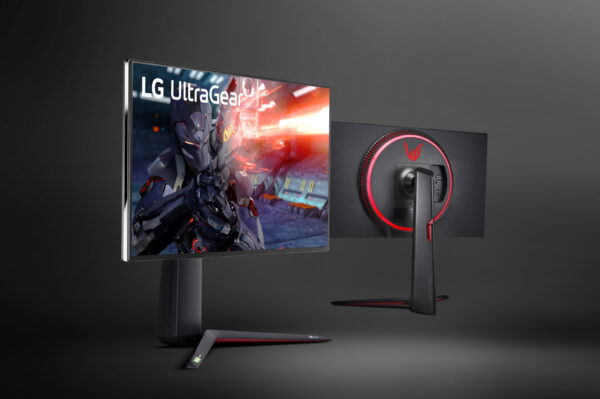 Other features and specs
Interestingly and unusually the 27GN950 also offers hardware calibration to maximize the ability of LG's IPS technology to realize precise color reproduction. That's usually reserved for professional grade screens, not gaming line-ups.
There is also VESA DisplayHDR 600 certification on this model which should at least provide some kind of meaningful HDR experience, with edge-lit local dimming. This also offers a peak brightness of >600 cd/m2, and the screen also supports 10-bit colour depth and a 98% DCi-P3 wide colour gamut.
In other specs there is a 1ms G2G response time (take with a pinch of salt) – LG state in their latest press release that this was "Tested by LG internal lab March 2020 based on iBoson's GRT-100 at room temperature of 25°C. Average value of GTG measured the rising/falling response time every 16 steps, available in Faster Mode setup." – let's just hope the 'Faster' mode doesn't show the drastic levels of overshoot that it did on other 1ms G2G rated LG displays, making the whole spec a bit pointless.
There is also a 450 cd/m2 typical brightness quoted. The stand offers tilt, height and rotate adjustments (seemingly no swivel according to the press release info?). There are 1x DisplayPort 1.4 and 2x HDMI 2.0 connections offered along with 2x USB 3.0 ports.
Availability
The 27GN950 will use LG.Display's own Nano IPS panel which according to the latest information we have is not scheduled for mass production until Q3 2020. So we wouldn't expect to see this new display until Q4 2020 at the earliest sadly. An additional note, it does look like the new panel will be one of LG.Display's new 'Oxide' designs with 4-side "real borderless" that we talked about in our recent news piece.
More info on everything when we get it.
Update 25/7/20 – according to a new press release on 21st July 2020 "Fans can expect to see the new LG UltraGear starting today in key markets of Europe, North America, Asia and other regions. Check local retailers for price and exact date of availability."
Source: LG
---
News alerts and more – follow us on Twitter
Subscribe to our News RSS feed
TFTCentral is a participant in the Amazon Services LLC Associates Programme, an affiliate advertising programme designed to provide a means for sites to earn advertising fees by advertising and linking to Amazon.com, Amazon.co.uk, Amazon.de, Amazon.ca and other Amazon stores worldwide. We also participate in a similar scheme for Overclockers.co.uk.